Are you a qualified engineer with the right motivation?
At Geronimo.AI we develop tailor-made AI solutions. Problem-solving is in our blood and we apply a bottom-up approach. Instead of thoughtlessly applying off-the-shelf models, we start by reasoning our way towards a solution. This approach stems from our engineering background and way of thinking, which we also expect from you. 
We are a young team with a lot of laughter, both inside and outside the office. You will be completely integrated in the team, cooperating closely with our experienced Machine Learning Engineers. 
"If you ask me to summarise my early career at Geronimo.AI, I must admit that the first weeks were very challenging. The technical level demanded is high and as my background is not directly in Computer Science, I had to learn a lot about Python, Git and other tools used within the company. The challenging aspect in engineering, however, has always been one of the reasons why I like my job. " "From day one, you will get a responsibility for your project, which means you will see the direct impact of your work. As the company is still in its start-up phase you can personally influence which aspects you would like to help on, resulting in highly varying working days. You can start your day by finally fixing that bug that has been there for a few days now, followed by a meeting in which you discuss the future of the company, continued by going to a fair where you help with business development." "The social aspect of the company is great. After a few days it felt like I was working with friends I have known for a long time. Furthermore, I love the great lunch and the 'domibo' we have: every Thursday we have drinks and sometimes play beach volleyball or go to a music show." "For me working at Geronimo.AI is the perfect balance between personal development, technical state-of-the-art solutions and a social environment! "
"When I started off my internship at Geronimo.AI, my background in Physics provided me with coding experience, but no machine learning knowledge whatsoever. To my surprise, it was not that much of a problem. Under the guidance of the engineering team, I soon picked up on the techniques and in only a few weeks' time I was already contributing to projects on a daily basis, all the while becoming much better at coding." "For academically schooled students that are already decent coders, I can strongly recommend joining some kind of software department. From experience, I can tell that coding in an efficiently operating team provides a much steeper learning curve than schooling yourself at home." "After four months at Geronimo.AI, I had worked on two large projects and knew the company inside-out. By attending brainstorm sessions and technical meetings I became involved in every company project; a very valuable aspect of working in a start-up. As I'm eager to learn more about the many applications of the technology, I decided to stay as a part-time employee next to my Applied Mathematics master."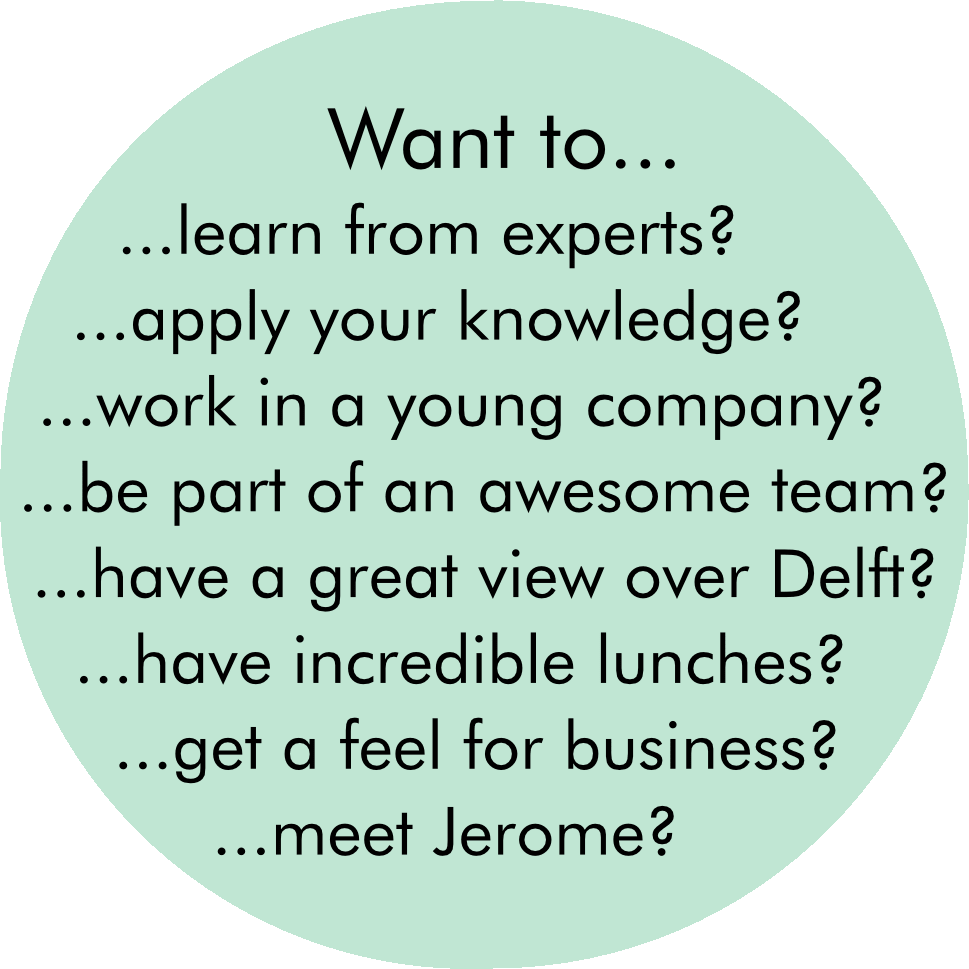 Fancy that?
1. Send an e-mail with your motivation, CV and any relevant technical reports to career@geronimo.ai
2. Afterwards, you are invited for a short chat to get to know each other and to determine your motivation and expectations. We prefer to meet in person but we could also schedule a call.
3. The next step is our in-depth interview in which we assess the fit with our team and the company's vision. The interview is combined with a case study to discover your way of reasoning.
4. If all is well, we will invite you to join a social event in order to meet the entire team! 
info@geronimo.ai
+31 (0)6 104 220 98
Kluyverweg 1 – 12.15, 2629HS Delft, NL
Chamber of Commerce No. : 81087578 
© 2018-2023 Geronimo.AI B.V.
All rights reserved